As a bettor, you may have come across Hollywoodbets when looking for a top betting operator. Hollywoodbets is one of the leading betting sites in South Africa, providing you with an array of games, lucrative odds, promotions, and bonuses to keep enjoying your betting experience. The company was founded in 2000, and with online betting being a popular go-to activity in today's betting scene, you can enjoy Hollywoodbet's services from the comfort of your house, using your smartphone or personal computer.
This guide will show you how to register with Hollywoodbets, login, gain access to the available bonuses offered by the operator, and answer any pertinent issues that you may have with this bookie.
How to Register an Account with Hollywoodbets
Before logging in to your account, you must have a registered account, and the process involved in creating an account is systematic and specific, as elaborated below:
Visit Hollywood's website at https://www.hollywoodbets.net
.On the website's homepage, click on the register button at the top right corner. A form will appear where you will be required to enter your personal details.
A tab will appear where you will be required to enter your details. To avoid leaving out key areas without filling them in, follow the form as it is, from top to bottom.
Enter a valid mobile number and email address because they will be used to contact you if need be.
Enter your address line as required. Complete the process by entering your city of residence and confirming. A notification will be sent to your contact addresses that confirm the registration of your account. You will then be free to log in, bet and win.
Remember, the areas with a star sign are mandatory to fill; therefore, ensure that the details you enter are valid.
How to log in to your Hollywoodbets account
Now that you understand the basics of creating an account with Hollywoodbets, let us go through an equally, if not more straightforward procedure of logging into your account.
Visit the Hollywoodbets website at https://www.hollywoodbets.net
On the right hand corner, enter your username and password and click on log in.
Automatically, you will have access to your Hollywoodbets account.
Getting the Hollywoodbets Welcome bonus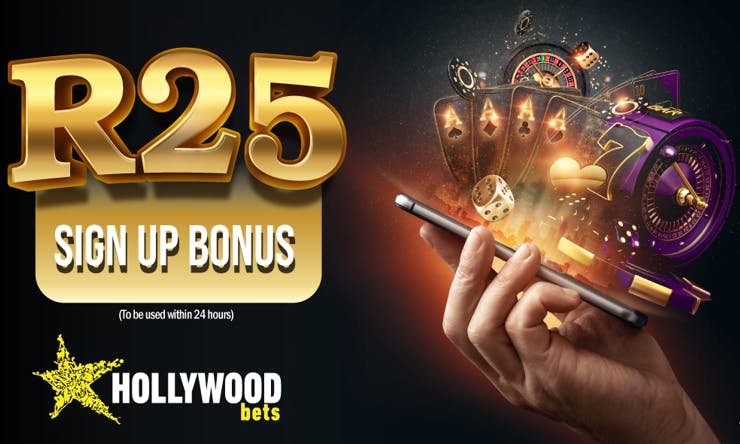 Hollywoodbets is currently offering South Africans R25 upon registering. Newbies can therefore enjoy this amount to start wagering on the betting site and bet on their favorite games, markets, and teams. The promotional item is a no-deposit bonus of R25, meaning you only have to register with the company and follow the terms and conditions to obtain the amount. Ensure you email your FICA documents to the betting operator to get the bonus.
Common Obstacles on Hollywoodbets and their Solutions
There are instances where you may face various obstacles when attempting to access your account. Such barriers do not mean you should walk away from the operator because there are quick and easy solutions.
Forgetting your username
Understandably, your life does revolve around betting alone, and with many activities occupying your daily schedule, your may forget your username, making it difficult to log in to your account and bet. Your username is part of your identification as the account owner; therefore, it is inherent that you memorize it all the time.
When you forget your username, contact Hollywoodbets customer service for assistance. You may be asked for necessary details to enable the relevant parties to help create a new one you can quickly memorize. A long-term solution to this issue is to save your account details to your smartphone or computer's browser. With this approach, you can automatically log in to your account when you use your smartphone or computer because the details are already saved in a specific browser.
Your account becoming inactive
Remember, the purpose of creating a Hollywoodbets account is to engage with it and bet from time to time. When you take too long to bet, Hollywoodbets may render your account inactive. An inactive account is one which has yet to show any activity for 12 months consecutively. This aspect means that you may have failed to log in and out of your account for more than a year. You may contact customer support with valid reasons for not having an active account, and they will be able to help you out and reactivate your account.
Issues related to verifying your account
Account verification is an important process aimed at authenticating ownership. There are various documents you need to upload and send to the operator during registration, and this process is known as FICA documentation. There may also be instances where you submit your FICA documents but still need help logging in to your account. Some people may find this process challenging and sometimes discouraging because of the details required. Nonetheless, you can always contact customer support for assistance whenever issues are related to verifying your account or logging in after submitting the required documentation.  
Forgetting or losing your contact details
The contact details needed for account registration are your phone number and email. You may need to remember them, making it challenging to obtain important notifications or messages from the operator or customer support center. Contact customer service for assistance whenever you need to change your contact details or remember them.
Error messages when you try to log in
You may be notified of an invalid account when trying to log in to your Hollywoodbets account. This error message could be due to an incorrect username or password. The solution is to ensure that you enter the correct username or password before logging in. Alternatively, ensure that your account is active, and when the problem persists, contact customer support for help.
Customer Support details
All the leading betting operators in South Africa have a functional customer support system. In Hollywoodbets, you can get help from various areas.
General inquiries can be sent to the operator's email: hwhelpline@hollywoodbets.net
You can also call 087 353 7634 to get help regarding the problems elaborated above.
In addition, you can contact Hollywoodbets Call Centre on 087 353 7633 in case you need to cancel your bet.