TheLotter South Africa Review (2023)
Online lottery is becoming increasingly popular around the world. It involves playing lottery games on the website, instead of the traditional mode where you have to go to the shops physically to buy tickets. One of the providers of online lottery is theLotter, which offers players a chance to play online in various countries globally, including South Africa. South African Lotteries are becoming increasingly popular, with new lotteries and bigger jackpots included to allow you to win bigger prizes. theLotter has three of South Africa's biggest lotteries waiting for players to play and increase their chances of winning. On the website, you can see that the company has listed many lotteries from different countries. You can therefore click on the lottery that is provided for by your country, where you can play comfortably and win comfortably. theLotter has tax-free jackpots, many prize divisions, and increased opportunities for winning. 
In this article, we will tell you about theLotter, its legal status in the country, how to play, and a comprehensive analysis of the options it offers its players.
Who is theLotter
theLotter is a private company owned by Lotto Direct Limited and is licensed and regulated by the Malta Gaming Authority. Globally, theLotter is operating aware of its customer's needs and safety for their data and security. The company encrypts personal and payment details under the Geotrust 128 SSL bit security that is accessible with a username and password only. Players should therefore have absolute trust when depositing and withdrawing funds.
Additionally, the company is responsible for giving out prize money to over 7 million winning tickets. In South Africa, theLotter is fully licensed and regulated by the National Lotteries Commission (NLC). It is important to note that theLotter buys the tickets on behalf of players and gives them, in accordance with the numbers they have selected. When players win, they get back their funds through theLotter.
How to sign up with theLotter
Go to the website of theLotter to create a new account or click the play button in any lottery game that you wish to play.
Enter your email and select a password you can remember. 
Fill in your personal details, such as your name, full address, date of birth, and phone number. Personal details are important for customer especially when doing due diligence.  
Limit the amount of money you can deposit within a specific period of time. You can change your amount limit later. 
Read the terms and conditions and confirm that you have attained the age of 18.
Add a payment method to your account to easily fund your lottery play. Payments to the account are deposited using South African channels such as Visa, MasterCard, Skrill, Neteller, and Paysafe cards. 
Please note that theLotter charges additional fees because the company provides ticket messenger services. 
How to play the available lotteries
Playing lotteries is simple, secure, and safe. Here are some quick guidelines on how you can get started. 
Select from the available 45+ lotteries listed on the website. Make sure you identify lotteries that you are comfortable with. 
Fill in the tickets the same way you would do with a physical ticket. You can however prompt the system to do that for you by clicking on the "Quick Pick" button. 
Clock on the PLAY button to place your order.
Pay for the tickets and confirm your purchase.
Ensure that you have received an email notification to ascertain that your purchase is complete. If not, contact customer service. 
The playing options on each lottery
Standard – under this option, you buy your ticket as one-time entries, subscriptions, or multi-draw.
Syndicate – under this option, you buy shares in a group entry that has pre-selected numbers to play. 
Bundle – under the bundle option, you combine the shares of a syndicate group with that of a personal standard entry for the lottery game. 
Multi-Draw – under the Multi-Draw option, you buy a set number of draws in advance, and the site provides a discount upon purchase. 
Subscription – here, players play in every consecutive draw of their favorite lottery until they choose to cancel their play. You pay for entries as the draw starts and proceeds. 
At theLotter, South African lottery players can find a variety of lotteries, such as South Africa Lotto, PowerBall, and the South Africa Daily Lotto. All these options are found on the site. It is also important to note that theLotter simplifies playing the lotteries from different providers, therefore, you should have minimal trouble navigating the site and selecting your preferred options. 
We have compiled a list of the most played games, with further instructions and details on how to take part in the.
South Africa Lotto
South Africa Lotto is the country's oldest lottery. Due to its prolonged stay in the lottery market, the entity has grown to be the most popular lottery. Approximately 82% of the country plays this lottery, making it South Africa's favorite. Additionally, the lottery recently awarded South Africa's third largest jackpot worth R110,000,000. When you navigate the website, you will see that South Africa Lotto is currently available for a potential jackpot prize of R4,000,000. There is a countdown in the far right column, showing when the draw will begin.
How to play the online South Africa Lotto
To take part in the South Africa Lotto draw online, simply select 6 numbers from the available grids with the numbers 1 to 52.
At the main page, there are options, where you can choose 8, 10, 15, 20, and 25 lines.  
You can select your numbers manually, using a Quick Pick random selection, or from the Lucky Numbers you initially saved. 
When you play online, the numbers you select are scanned by the system and saved in your account before the draw is handled by theLotter's lottery courier service. 
The draws take place on Wednesdays and Saturdays at 9.00 p.m. South African time.
How to win the South Africa Lotto Jackpot
When you successfully match the six main numbers with the ones offered with the ones at the final draw, you win the jackpot. 
Jackpot prizes normally begin at R3,000,000 and the sum increases provided no one has won the money. It is currently at R4,000,000.
If you do not win the top prize, you can still win a prize because South Africa Lotto offers seven secondary prize divisions for particular matches.
When you match 5 and a bonus ball, you get a prize, other options include matching 5 balls, matching 4 balls and a bonus ball, matching 4 balls and a bonus ball, matching three balls, and matching 2 balls and a bonus ball. The prize money depends on the overall draw and may vary every week. 
The bonus ball chosen on each draw dictates winners in those categories. 
To identify whether you have won, you can navigate the website and check the latest South Africa Lotto results and find out the prizes you have won. 
Saving money with South Africa Lotto
Players can save money when they play their favorite lotteries online on the theLotter website. Discounts go up to 25% when you buy 5, 10, 25, or 52- draw multi-draw entries. Every 7th ticket is free when you play with a subscription or when you buy a bundle package that has an inbuilt discount offer. 
A multi-draw package is a lottery ticket that can be used for a number of draws; therefore, you are not required to buy other tickets for another draw. You only make one order and theLotter handles all your entries for the final draw. 
theLotter offers you the power to play lotteries with online lottery players in a lottery syndicate. Multi-draw packages are offered for lottery syndicates. This entity provides a lottery group that significantly reduces the cost of participation and discounts. When you buy a multi-draw package for a lottery syndicate, you will have to decide the number of shares you want to purchase because playing in a group means that you do not own the whole ticket but are just a shareholder in a group that cumulatively owns many tickets. 
Multi-draw lottery syndicate packages
Random selection – the numbers are randomly chosen for a specific number of lines. 
Systematic form – explores and covers all the possible unique combinations between 7 and 14 numbers that are randomly chosen. 
Additional Numbers Match Guaranteed – every regularly drawn numbers are selected randomly. The group then gets lines with all the possible combinations of the lottery's additional numbers drawn, which guarantee that the syndicate will match them at least once. 
The Guaranteed Number Match – under this field, all regularly drawn numbers are selected randomly. Every syndicate line exhibits one variable number over the entire guess range of the lottery. Consequently, the syndicate guarantees a match in at least one of the drawn numbers. 
Multi-draw lottery packages are beneficial because you can join more than one group and use the strategy of your choice to try and win the big prize. To play it safe, it is recommended that you go for the syndicates providing a Guaranteed Number Match, because it has the maximum number of winning combinations. 
How to claim South Africa Lotto Prizes online
Winners are normally notified though automated SMSs or emails. The prize is therefore paid out 100% without incurring any commission, to your personal account at theLotter, immediately the prize is collected from the official lottery operator. 
However, larger wins such as the jackpot, may require you to collect the prize in person. In such instances, theLotter will cater for your transport costs and help you claim the full amount. 
South Africa PowerBall
Another lottery playing option is the South Africa PowerBall, established in 2009. This lottery option is found in theLotter, where players can explore the option of winning big prizes. It is also becoming increasingly popular because of its enormous jackpots with the most recent record being R232,131,750. The PowerBall jackpot currently stands at R16,000,000. 
How to play South Africa PowerBall
When playing the PowerBall, you choose 5 numbers, and you can win from 9 prize categories. South Africa PowerBall has a guess range of 1-50 and has one of the highest winning probabilities of winning compared to other international PowerBall options offered by theLotter. 
The winning categorizations are simplified in the table below: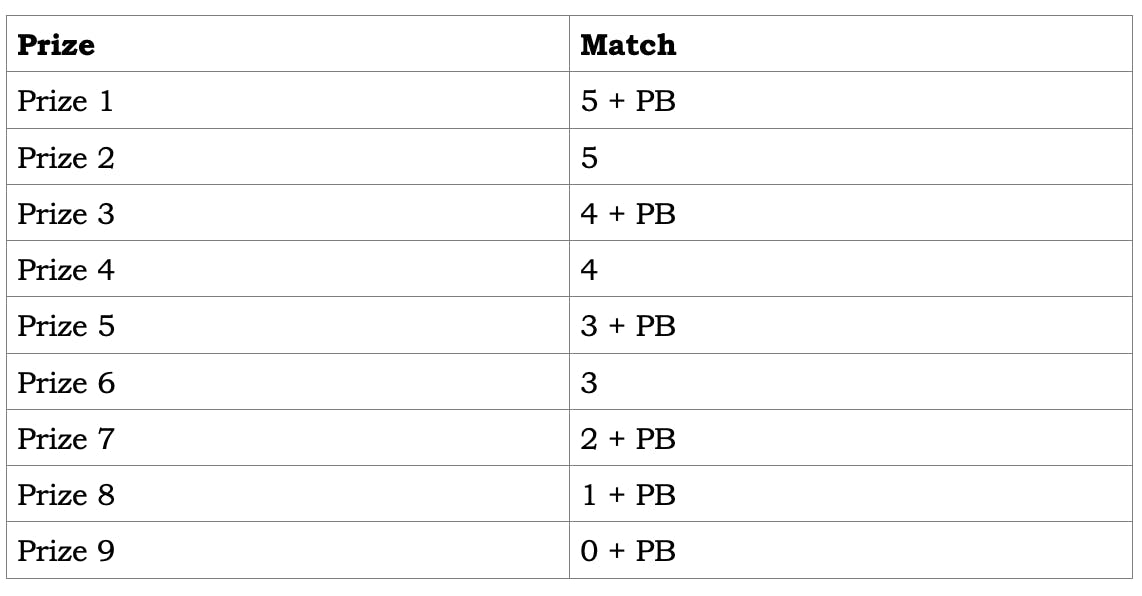 To win the jackpot, compare your five main numbers and the PowerBall number to the numbers drawn in the final draw. The table above gives directions on where you may lie regarding the matches in the final draw. As long as your matches are similar to one of the nine categorizations, you stand a chance of winning a prize. You can therefore enjoy the numerous possibilities explored to win a prize. 
The South African jackpot PowerBall prize starts with R5,000,000 and does not have a rollover limit. To increase your chances of winning the jackpot, play the 8, 9, 10, 11, and 12 number systematic forms. Hit the winning combination and stand a chance of multiple winnings with your tickets. 
You can also improve the chances of winning the PowerBall prize by purchasing PowerBall syndicate shares or combining your entry with group play by purchasing a bundle. 
Saving money with South Africa PowerBall
There are discounts available when you play the South Africa PowerBall at theLotter. You can save up to 25% when you purchase a 5, 10, 25, or 52 draw South Africa PowerBall subscription package. The multi-draw package works similarly to the one of South Africa Lotto. Buying a bundle with a built-in discount also guarantees you a discount. On the other hand, you can get a free seventh ticket on your purchases when you buy the PowerBall subscription package. 
Winners are notified either by SMS or email, and the notifications are based on the contact details you provided when you signed up. 
South Africa Daily Lotto
The South Africa Daily Lotto is the third and last local lottery service offered by theLotter. The Daily Lotto was established in March of 2019 and has unbelievable odds of 1:376,992 to win the big prize. It also has other prize categories where players can win with matches starting from 2 to 5 as shown below:
Prize - Match
Daily Lotto has 4 prize divisions where you can with the jackpot's figures beginning at R100,000. To take part in the game, you must select 5 numbers from a guess range of 1 up to 36. Players stand a chance of winning every penny offered by the lottery. 
How to win the South Africa Daily Lotto Jackpot
Compare the five numbers you selected to the winning South Africa Daily Lotto final draw numbers. 
If all the numbers on your ticket match, you win the jackpot.
If there are 4 matches, you win Prize 2.
If there are 3 matches, you win Prize 3.
If there are 2 matches, you win Prize 4. 
Mobile apps
theLotter has a mobile app compatible with Android and iOS devices. It is therefore flexible, and players can conveniently access the numerous lottery games in the palm of their hands. The single account created is both applicable in iOS and Android apps therefore, you do not need to sign up afresh. It is reliable because you can turn on notifications for results and jackpot draws. Both apps can be downloaded from the links provided on the website.
Customer services
There are dedicated channels where you could raise your queries and questions. On the company's page, there is a "Contact Us", button, where you can talk to customer care services and receive help on your inquiry. You can either send a message or talk to the support personnel in real-time and get the required help. 
Important takeaways
It is worth noting that the site offers international lottery games which you can play when you click on the lottery option. However, it is only going to be applicable when the company's payment options are compatible with South African local payment options. 
Players are therefore not limited to playing local lotteries because when you select a lottery game from another country, theLotter will purchase tickets on your behalf and enable you to play lottery games of your choice. Additionally, payments are made easier by theLotter because the website is responsible for administering funds into your account, should you win playing lottery games from any country worldwide, offered by theLotter. 
Different countries offer different numbers and probability of winning, for instance, the SuperEnalotto from Italy has a grid with numbers 1 to 90, making the jackpot harder to win because of the reduced probability. In addition, the United States MegaMillions Lotto has each line having 70 numbers. 
This is why the South African lottery market is highly recommended because of the fewer numbers per line and the multiple ways a player can win prize money other than the jackpot.